Nurse Practitioner
Patricia Konstantaros, MSN, APN
Patricia Konstantaros is a board-certified Nurse Practitioner specializing in family medicine, pain management, wellness, and health promotion. She completed her Bachelor of Science in nursing and then graduated with honors from Rutgers College of Nursing with a master's in nursing. Finally, she holds two national board certifications with the American Nurses Credentialing Center (ANCC) as a family nurse practitioner and pain management nurse.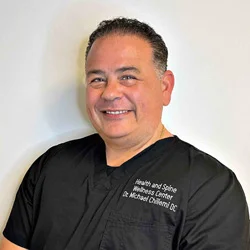 Chiropractor
Dr. Michael Chillemi, DC, DABFM, CCIE, CMI-V
Dr. Chillemi has made a huge difference in the lives of the patients that he has treated. As a chiropractor, he understands the importance of making lifelong relationships with his patients. For this reason, he has developed the ability to coach and help patients reach their optimum health and wellbeing by being empathetic to those in need of chiropractic care.
Dr. Michael Chillemi is licensed in the state of New Jersey, New York, Florida, and Pennsylvania. He is certified by the National Board of Chiropractic and by the American International Sports Association. He is also certificated in Flexion Distraction, Functional Capacity Evaluations, and Cardiac Resuscitation. Moreover, he has been approved to teach a functional evaluation certificate program through the New York Chiropractic College and is the co-author of The Complete Herbal Guide: A Natural Approach to Healing the Body.
Furthermore, Dr. Chillemi maximizes his treatments with postural, strengthening and stretching exercises. He has enjoyed a high success rate with stabilizing displaced spinal discs. He offers extensive care and treatment for injuries that range from acute to chronic, cervical and lumbar disc conditions, sports-related injuries, shoulder dysfunction, knee dysfunction and rehabilitation of the functional body. Along with this, he has adopted and mastered cutting edge examination methodology and has developed a system of X-ray analysis to screen out potential risks.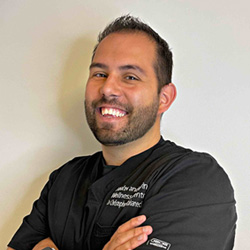 chiropractor
Dr. Christopher Kahanec, DC
Dr. Christopher Kahanec earned his Bachelor of Science in Exercise Physiology at William Paterson University, where he studied under some of the most well-known exercise physiologists on the East Coast. He then worked as an exercise physiologist intern at the Hackensack University Medical Center, where he helped patients recover from many different cardiac pathologies.
Eventually, he attended Life University in Atlanta where he published a research abstract for the International Symposium on Clinical Neuroscience. Dr. Kahanec then graduated, earning the Doctor of Chiropractic degree. Currently, he is training for his diplomat in functional neurology and continues to study new chiropractic techniques.
physical therapist
Marianne B. Bayongan, RPT
Marianne B. Bayongan, RPT graduated with a Bachelor of Science in Physical Therapy in the Philippines in 1996. Upon gaining her Physical Therapy license in 1997, Marianne set up and managed her own private practice for 4 years. Throughout this time, she trained physical therapists and hundreds of physical therapy interns.
In 2008, Ms. Bayongan relocated to the US where she managed a clinic in Jersey City and Roselle Park. She keeps current with physical therapy practices by completing courses in person and online and keeping abreast with various literature and journals. She believes in the concept of "enhancing abilities beyond disabilities", which is why she strives to get her patients back to their activities despite their pain and weaknesses through proper care and exercise.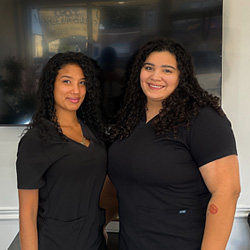 Chanel – Patient Clinical Coordinator
Jae – Main Front Desk Clerk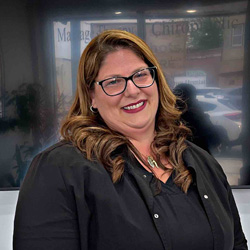 Jaclyn – Office & Case Manager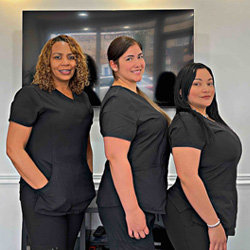 Elizabeth – Senior Massage Therapist
Maria & Milena – Massage Therapists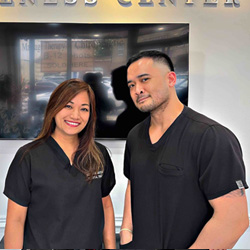 Marianne Bayongan – Registered Physical Therapist
Jason – Physical Therapist Assistant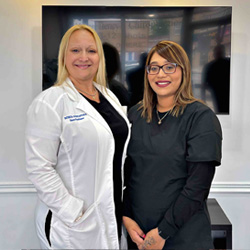 Patricia Konstantaros – Nurse Practitioner
Jeneli – Clinical Assistant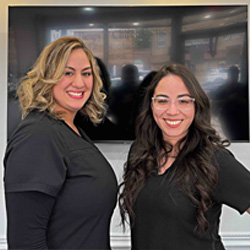 Naly – Commercial Insurance Specialist
Marycela – Personal Injury Protection Specialist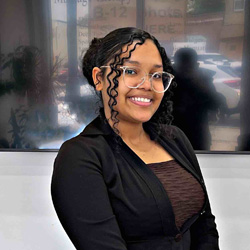 Miguelina – Marketing Director
Monday
9:30am - 1:00pm
2:30pm - 7:00pm
---
Tuesday
Closed
---
Wednesday
9:30am - 1:00pm
2:30pm - 7:00pm
---
Thursday
9:30am - 1:00pm
2:30pm - 7:00pm
---
Friday
9:30am - 1:00pm
2:30pm - 7:00pm
---
Saturday & Sunday
Closed