Scoliosis Treatments in Belleville NJ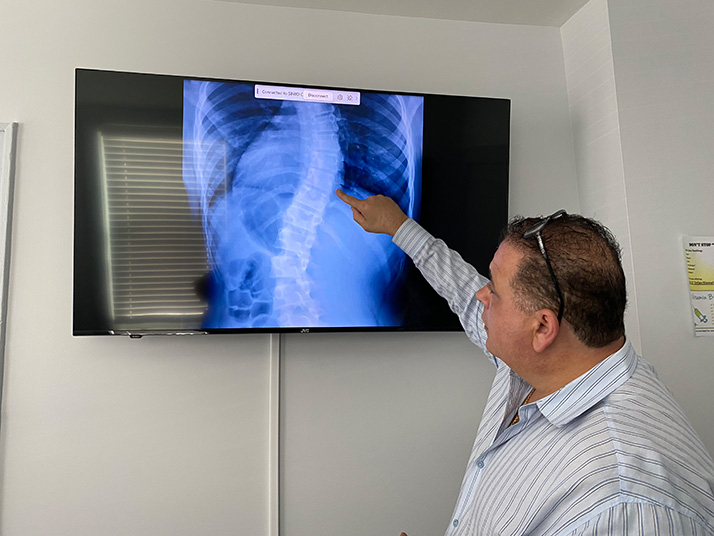 The search for scoliosis treatments in Belleville NJ has increased at a fast rate, especially among parents of children ages 10-12 who are most likely to develop idiopathic scoliosis. Idiopathic scoliosis is the type of scoliosis that has no apparent cause, and it mostly targets school-aged children because of the changes that their bodies go through as they experience growth spurts. Scoliosis is the development of an abnormal curvature in the spine, which impairs a person's posture and gradually lead to back and shoulder pain. Oftentimes, parents and children don't realize that scoliosis is present because at the beginning stages of scoliosis, there are not noticeable changes or symptoms. By the time children begin showing signs, the curvature in their back is already in a mid to late stage and they are already experiencing pain.
You don't have to wait until your child is in pain or shows bad posture to take them for a scoliosis test! Many school districts implement a scoliosis screen every year, and that's how parents usually find out if their child is suffering from this condition. However, not all school districts enforce this, so if your child doesn't get a yearly scoliosis screen at their school, make sure to take them for one. At the Health & Spine Wellness Center, we can successfully screen, diagnose, and treat your child through chiropractic adjustments and physical therapy. We don't have to be the ones to diagnose your child in order to treat them, so if your child already has a diagnosis and x-rays showing that they have scoliosis, bring them with you to their evaluation appointment and we will be more than happy to start treating them.
Here are some key physical changes that will help you spot scoliosis in your children:
Asymmetrical shoulder height.
Asymmetrical height of the hips or waist.
A lump in the back when they're leaning forward.
Although children are more prone to suffering from scoliosis, adults can suffer from this condition too. When someone suffers from scoliosis, but they don't get diagnosed or treated early on, the condition continues to worsen over the years, and that's how we see adults suffering from this painful condition. Though the curvature in children often develops in the middle of the spine, in adults it develops in the lower portion of the back, and this is why the condition is considered more serious and painful for adults than for children. Scoliosis treatments for adults in Belleville NJ include chiropractic adjustments as well as physical therapy and trigger point injections, when there's pain. These are all non-invasive treatments, and when done regularly, you can avoid going for surgery.
Here are some key physical changes that can help you spot scoliosis in an adult:
Height loss.
Uneven alignment in the pelvis and hips.
Leaning to one side of your body.
If you are interested in pediatric scoliosis treatment near Belleville NJ call us today to schedule an evaluation! If what you are interested in is adult scoliosis treatments near Belleville NJ  call us too, we have treatments for everyone! The Health & Spine Wellness Center is conveniently located in Essex County, NJ, near the beautiful cities of Nutley, Bloomfield, Lyndhurst, Kearny, Nutley, Montclair, Harrison, Clifton, West Orange, and many others. So, if you live in Essex County, NJ, you should make us your number 1 choice for scoliosis treatment.