Sciatica Treatments in Belleville NJ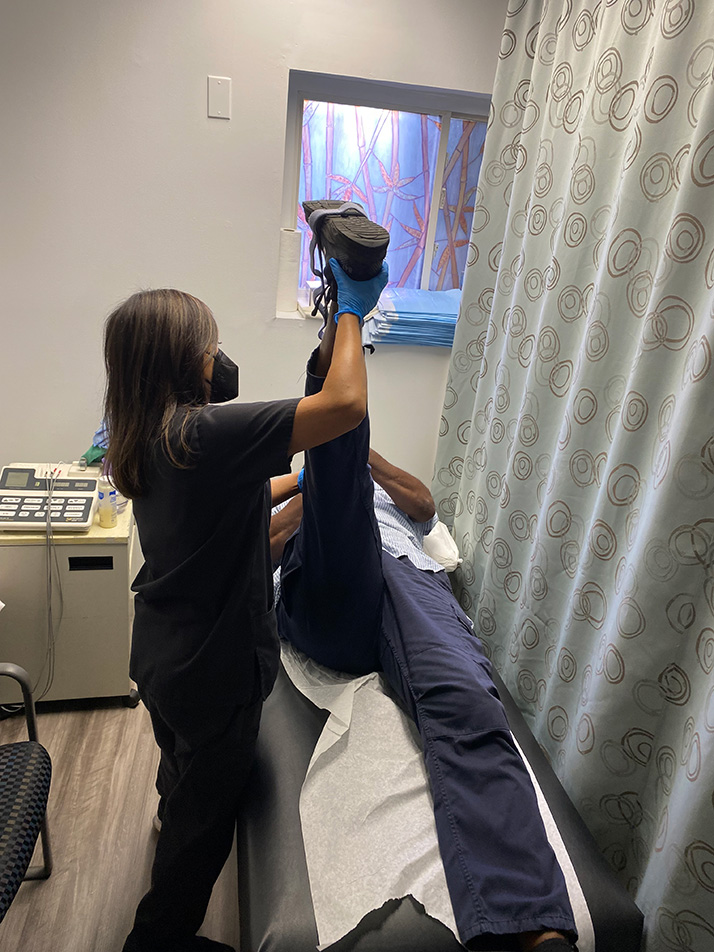 Sciatica is a pain that travels along the sciatic never path, which goes from the lower back down the legs. This is often a result of a herniated disc or the pressure that comes from an overgrowth of bone. This pain is often accompanied by inflammation, soreness, and numbness in the affected leg, as well as pain when sneezing, coughing and trouble controlling one's bowel and bladder. As we age, we are at a greater risk of developing sciatica, as the changes in the spine that are related to age cause injuries like herniated disks, which lead to sciatica pain. Other risk factors include obesity, hard-labor or driving jobs, prolonged sitting, and diabetes.
Fortunately, at the Health & Spine Wellness Center, we specialize in providing the members of our community with natural treatments to treat sciatica in Belleville NJ. Having a good posture is something that can definitely help someone suffering from sciatica, and our facility, our dedicated team of chiropractors can help fix your posture! At the same time, our dedicated nurse practitioner uses the latest technology to provide you with regenerative treatments that can help you treat the cause of the sciatica. Along with these options, we also have an amazing team of physical therapists who can help you perform stretches and exercises that can help eliminate this pain for good.
Though it may seem like sciatica affects people out of the blue, the truth is that this painful condition affects people slowly and by the time it prevents someone from tying their shoes or picking their grandchildren up, the condition is severe. Many people only experience sciatica pain in one leg in Belleville NJ, but some of our residents also complain that they experience this pain in both legs. With that being said, when you feel some discomfort in your lower back-buttocks-leg-and-foot area, seek medical assistance right away to find out if you have sciatica. Don't wait until the discomfort becomes pain and definitely don't wait until your pain starts happening in both legs to make an appointment to be seen by a medical professional.
If you are pregnant and you are experiencing sciatica pain or an electric-like feeling in your legs, don't be afraid as this is very normal in pregnancy and will most likely go away after birth. The pregnancy hormones act as a relaxer for ligaments, which hold vertebrae together. As a result, the spine becomes unstable, causing a nerve to get pinched or a disk to get herniated. Even though this is something temporary, nobody wants to go through this for so many months, so it is recommended to seek help. Chiropractic adjustments during pregnancy are a great way of helping soothe this pain, and fortunately, our chiropractors specialize in that. To find out more about chiropractic adjustments during pregnancy, visit our Chiropractic Care for Pregnancy page.
If you think you need sciatica treatments near Belleville NJ or in any city in Essex County, NJ like Bloomfield, Lyndhurst, Montclair, Clifton, West Orange, Harrison, Nutley or Kearny, give us a call  to schedule a consultation to begin your treatment with one of the highest rated responsible pain management clinics in Essex County, NJ.