Knee Pain Treatments in Belleville NJ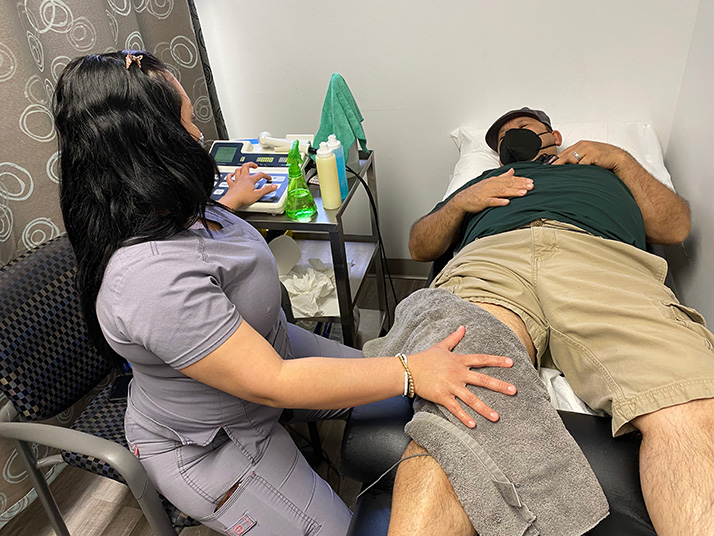 A great number of people look for knee pain treatments in Essex County, NJ because they experience dull and sharp knee pain that takes place in the front, back or either side of the knee joint. There are many types of knee pain, and they may be a result of many different conditions or accidents. One of the main reasons why people experience knee pain in Belleville NJ is arthritis. Arthritis can damage your cartilage, bone, ligaments, and even the joint fluid in your knees, resulting in a great amount of pain and soreness. This condition greatly affects your daily life, and that's why it's important to get your knees checked as soon as you experience discomfort even if you don't experience pain. Once you begin experiencing pain, the condition that's causing your knee pain can already be in an advanced stage. When you get a knee joint check-up in Belleville NJ at our facility, we can find out if you have a condition that causes your discomfort or pain and prescribes the right treatment plan for you.
Call us today to make an appointment for a knee joint check-up at the Health & Spine Wellness Center if you experience one of the following:
Popping, craping, or crunching noises
Redness and swelling
Difficulty straightening your leg
Severe weakness
Stiffness
Fever, nausea or vomiting that accompanies knee discomfort
Signs of knee fracture
Difficulty putting weight on your knee
Our medical team at the Health & Spine Wellness Center is experienced at finding the cause of your knee pain and treating it effectively because after we perform a complete evaluation of your knees and overall health, we develop a unique treatment plan, tailored to your specific medical needs. Don't wait for a knee replacement! Try an all-natural, less-invasive treatment and find pain relief treatments right here in Belleville NJ! If you live in Nutley, Bloomfield, Lyndhurst, Kearny, Harrison, Montclair, Clifton, West Orange or any other city in Essex County, NJ, we can be just 5-15 minutes away from you!
---
More Information
Click here to read our letter to you, where we provide you with honest and up-to-date information that will help you in your journey to a knee-pain-free life.
Click here to find out more information about the causes of knee pain.
Click here to learn about our Knee Rescue Program!
Click here to hear what our patients have to say after being referred for knee surgery and deciding to follow our non-surgical path to a knee-pain-free life.