Carpal Tunnel Treatments in Belleville NJ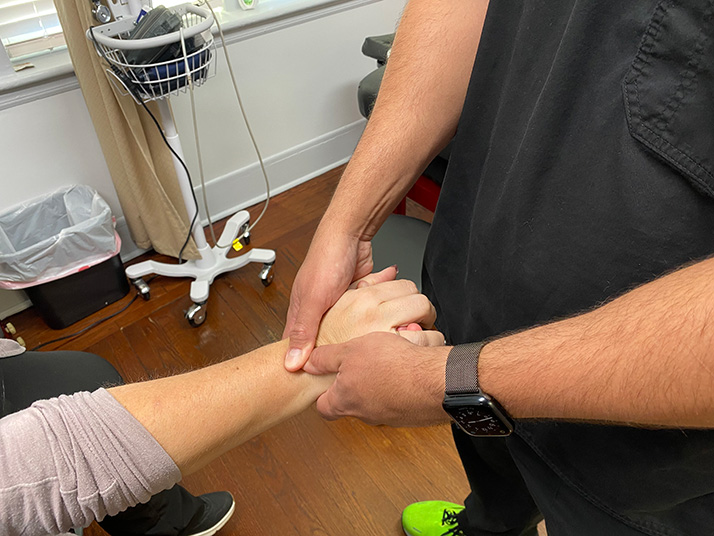 The demand for carpal tunnel treatments in Belleville NJ is on the rise as many people in our area have to use their hands heavily as part of their job duties. Research shows that people who perform repetitive tasks with their hands, wrists and arms are at a greater risk of developing carpal tunnel syndrome because of the pressure that is put on the median nerve. Carpenters, drivers, line workers and people who spend their days using a keyboard are very prone to suffering from carpal tunnel, so if your line of work requires heavy use of your hands, we suggest that you get a carpal tunnel examination to determine whether you suffer from this painful condition.
Some physical indicators that you may suffer from this condition are:
Pain or ache in the fingers, hands, or arms
Numbness in your hands
Tingling or needling feeling in your fingers and your arm
Weakness in your thumbs
Weak grip and loss of manual mobility
Waking up in the middle of the night with a numbness in your hands
If you are experiencing any of these symptoms, you need medical care ASAP! Come to the to the Health & Spine Wellness Center to find the latest non-surgical carpal tunnel treatments near Belleville NJ and receive care from the highest and best rated responsible pain management clinic in the area. If you leave your carpal tunnel untreated, you might experience complete dysfunction of your hand as well as the complete loss of sensation in your fingers. Just like the vertebrae in your spine can pinch your spinal nerves, the skeletal structure in your wrists can also pinch the nerves in your hands, leading to the development of the carpal tunnel syndrome. This is why is important to seek treatment as soon as any symptom becomes noticeable. At the same time, it is a good idea to go for regular carpal tunnel screenings if you know you belong to a high-risk group, which, again, are the people who work with their hands, but also those with a family history of carpal tunnel, even if it's just a parent who experiences this. At the Health & Spine Wellness Center , we are proud to offer the latest carpal tunnel treatments that target the root of the syndrome, rather than numb your symptoms. We want you to know that if you're looking for non-surgical treatments for carpal tunnel in Essex County, NJ, you need to give us a call to schedule a consultation because none of our treatments require surgeries or prescription medications.
What are you waiting for? Call us today and receive carpal tunnel treatments from the best rated pain management clinic in the area! If you are located in Belleville, Nutley, Kearny, Bloomfield, Lyndhurst, Harrison, Montclair, Clifton or West Orange, come to the Health & Spine Wellness Center and find a family that will help you get through pain in the most optimal way possible.