Disc Injury in Belleville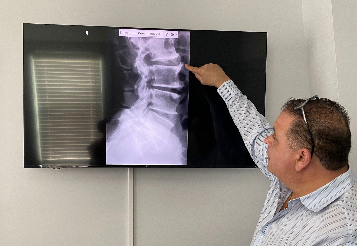 Have you been diagnosed with a disc injury or a slipped disc in Belleville and are looking for treatment? The chiropractic team at the Heath & Spine Wellness Center is trained to help you overcome your injury and return to living a pain-free life. The severity of disc injuries depends heavily on the circumstances under which the injury happened. That is why these injuries need to be treated by an experienced and caring chiropractor like the ones in our facility.
---
Herniated Discs
If there is a herniated disc in your back, this means that the soft center of the spinal disc is pushing through a crack, causing it to leak out of the vertebrae. This causes inflammation of the surrounding nerves and severe pain in your back and neck.
---
Disc Extrusions
A disc extrusion is one of the most extreme disc injuries, which results in the leaking of the internal fluid found inside the disc. This often results in excruciating pain and a significant reduction in flexibility.
If you want to recover from your disc injuries, trust that the Health & Spine Wellness Center's staff will help you get the treatment that you need.
Monday
9:30am - 1:00pm
2:30pm - 7:00pm
---
Tuesday
Closed
---
Wednesday
9:30am - 1:00pm
2:30pm - 7:00pm
---
Thursday
9:30am - 1:00pm
2:30pm - 7:00pm
---
Friday
9:30am - 1:00pm
2:30pm - 7:00pm
---
Saturday & Sunday
Closed